St. Paul Academy & Summit School
St. Paul Academy & Summit School
1712 Randolph Ave
Saint Paul, MN 55105
(651) 698-2451
OUR CAMPUSES
SPA's two campuses are located just over a mile apart in St. Paul's Macalester-Groveland neighborhood. The Goodrich Campus (view Google map) is home to the Lower School (Grades K-5), and the Randolph Campus houses the Middle School (Grades 6-8) and Upper School (Grades 9-12).
Signature spaces on the Goodrich Campus include the cozy and inviting Living Room; the dedicated Lower School MakerSpace; the Converse Auditorium; and nearly five acres of open green space. Highlights of the Randolph Campus include the grade-level commons for each Middle School grade; the new Upper School Humanities Wing and Hugh K. Schilling Math and Science Center; the Huss Center for the Performing Arts; and the Harry M. Drake Gallery, which hosts exhibitions of student artwork and shows featuring local artists.
Some of SPA's facilities are available for rental to community groups. Rental availability is limited and fees vary. Learn more about SPA's rental facilities.
MISSION AND VALUES
MISSION
Our mission—shaping the minds and the hearts of the people who will change the world—is a promise to our students and our families. It is intentionally ambitious so it will push us to be thoughtful about everything we do. It inspires us to be our best and reminds us that we have the responsibility to respect the unique potential in every child. There are literally thousands of decisions made every day by teachers, administrators and students. In sum, these decisions serve to define who and what we are. We ask everyone in our community to use our mission statement as a filter: is this decision in alignment with our mission?
The mission also sets a high standard for our students. We shape their minds by teaching them how to think clearly and creatively. We shape their hearts by teaching them how to be sensitive to the personal struggles of others. In the end, we open doors, show them pathways and support their passions. Then it is up to each of them to choose their direction, to apply their individual talents, and to embrace their potential.
Our mission gives us purpose. It represents our greatest aspirations and values. But most of all, it reflects our deep belief in the talents and capabilities of our students.
VALUES
The SPA experience is shaped and defined by six core values: achievement, accountability, community, resilience, inventiveness, and passion.
Achievement
and academic excellence are at the center of what we do. Working hard toward a goal is deeply fulfilling for students of all ages. We believe the pursuit of excellence cultivates both the humility and genuine confidence students need to succeed in college and in their lives.
Accountability
Is one of our most important values because it is the foundation of our Accountable Classrooms. In our distinctive classroom settings, students learn to be accountable to their classmates and teachers by coming to class prepared and responding thoughtfully and constructively to the ideas of others; they become accountable to themselves by taking full advantage of the many opportunities afforded them, both in and out of the classroom.
Community:
Parents and students describe a disarmingly warm and welcoming culture at SPA. Students are at the center of this culture, and even our youngest students are expected to act as accountable citizens of the larger community. This is possible because we give them meaningful, age-appropriate responsibilities that set the tenor for the school. Students reap the benefits of a supportive community but more importantly, they learn that they have an obligation to make the community better.
Resilience:
Is a learned strategy for dealing with life's inevitable frustrations and setbacks in the most productive manner possible. Students need to learn to see failure as a step towards success, never as an endpoint.
Inventiveness:
Creative, original thought moves the world forward. It requires a mind capable of synthesizing the known into the new. But it also takes curiosity and courage to see the world in new ways and offer new ideas. We feel it's vital to provide both the intellectual tools and the emotional support required to unleash creative minds.
Passion:
Above all, SPA is a place where students learn the power and satisfaction of fully engaging in their learning and their community. Passionate, emotional engagement brings profound joy and better performance, whether in the classroom, on the stage, in front of an easel, or on the field of play.
ADMISSION
WELCOME TO ST. PAUL ACADEMY AND SUMMIT SCHOOL!
At SPA, we work hard to deliver the tangible elements of an exceptional educational experience, but what makes our school unique is intangible. Parents and students tell us that they feel a particular kind of energy when they walk through our doors: an openness and warmth that reflects our values and our culture.
This is made possible by the lowest average class size of comparable independent schools in Minnesota; our talented and experienced faculty; an innovative and rigorous K-12 curriculum; and above all, our mission: shaping the minds and the hearts of the people who will change the world.
We hope you'll visit us and experience our extraordinary community in person! In the meantime, don't hesitate to contact any one of our Admission staff with questions. We look forward to meeting you!
K-12 CURRICULUM
Academic excellence is at the heart of the SPA experience. In all three divisions, students are challenged by what we believe is the best academic curriculum in Minnesota. They are supported by the individual attention that is made possible by master teachers—80% of SPA faculty hold a graduate degree beyond the baccalaureate—and the lowest average class size of comparable independent schools in the state. SPA's student-teacher ratio is 7:1. Kindergarten classrooms have an average of under 10 students per teacher; beyond the Kindergarten year, Lower School homerooms average 13-15 students per teacher.  Middle School classes average 15 students and Upper School classes average 14 students.
THE K-12 CURRICULUM AT A GLANCE
SIX-DAY SCHEDULE
The fundamental building block of the K-12 curriculum is the rotating six-day schedule.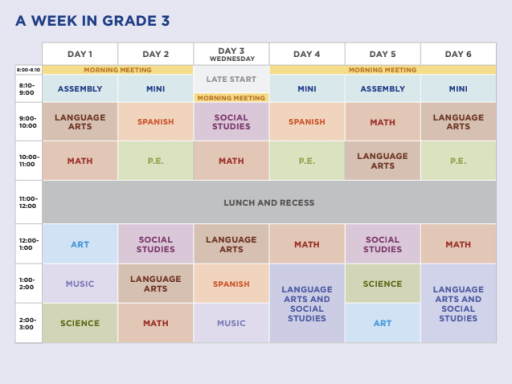 In the Lower School
The rotation allows for optimum focus on the core homeroom courses (math, language arts, and social studies) with plenty of time for the specialist courses in science, Spanish,  art, music, physical education, and library time. The rotation also provides time for twice-weekly assemblies, "exploration" time in Grades K-2, the beloved "Mini" classes in Grades 3-5, as well as recess and the open playtime so important for young children. View a sample Lower School schedule or learn more about the Lower School.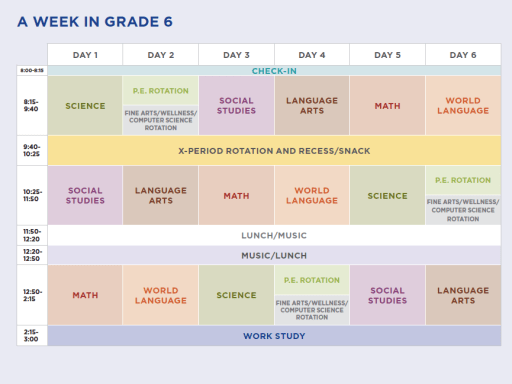 The Middle School
Follows a six-day block schedule, which gives teachers the flexibility to incorporate both collaborative projects and individualized instruction into their courses. Because the block schedule both extends class meetings and spreads subjects out over longer periods, students have time to better absorb complex material. The 85-minute length of each allows ample opportunity for all three of the elements of deep learning: planning, exploration, and reflection. View a sample Middle School schedule or learn more about the Middle School.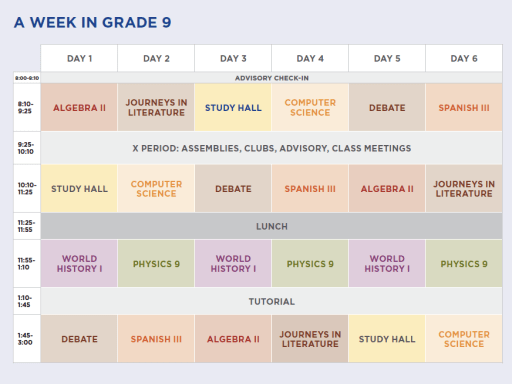 The Upper School
Follows a six-day block schedule in which students have four classes per day, each for 75 minutes. The long blocks allow teachers to delve deeply into complex material and topics, with time in each class period for authentic problem-solving, collaboration, and a range of activities to engage all learners. The 45-minute "X Period" after the first allows time for assemblies, student organization and club meetings, and work with teachers and peers. View a sample Upper School schedule or learn more about the Upper School.
APPLYING TO SPA
We are pleased that you are interested in St. Paul Academy and Summit School, and look forward to getting to know you better throughout the admission process!